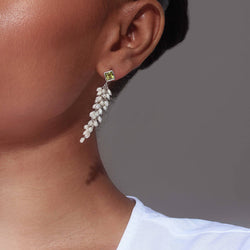 JewelfishLondon
Peridot and seed pearl earrings
Seed pearls have a natural beauty especially when grouped together.
Peridot with its vibrant green shade is unique. These elegant earrings are set with 5mm square peridot gemstones from which oval, irregular pearls form a cascade drop. They have a lovely movement, shape and feel.
58mm overall, 48mm natural pearl tassel. 
Please enquire for alternative gemstones.